When:
12/30/2017 @ 10:00 AM – 10:00 PM
2017-12-30T10:00:00-08:00
2017-12-30T22:00:00-08:00
Where:
The Colony Theatre
555 N 3rd St
Burbank, CA 91502
USA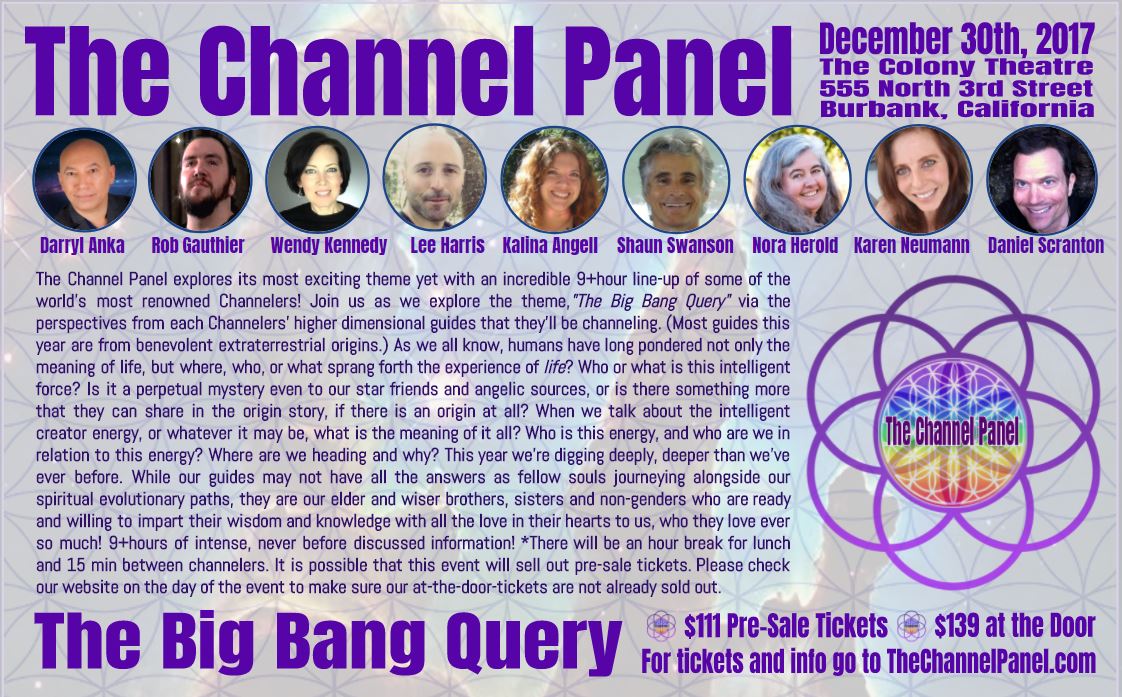 The Channel Panel explores its most exciting theme yet with an incredible 9+hour line-up of some of the world's most renowned Channelers!
Join us as we explore the theme,"The Big Bang Query" via the perspectives from each Channelers' higher dimensional guides that they'll be channeling. (Most guides this year are from benevolent extraterrestrial origins.) As we all know, humans have long pondered not only the meaning of life, but where, who, or what sprang forth the experience of life? Who or what is this intelligent force? Is it a perpetual mystery even to our star friends and angelic sources, or is there something more that they can share in the origin story…if there is an origin at all? When we talk about the intelligent creator energy, or whatever it may be, what is the meaning of it all? Who is this energy, and who are we in relation to this energy? Where are we heading and why?
This year we're digging deeply, deeper than we've ever before. While our guides may not have all the answers as fellow souls journeying alongside our spiritual evolutionary paths, they are our elder and wiser brothers, sisters, and non-genders who are ready and willing to impart their wisdom and knowledge with all the love in their hearts to us, who they love ever so much! 9+hours of intense, never before discussed information! *There will be an hour break for lunch and 15 min between channelers.
The Channel Panel Events have been the the largest All-Channeler event for 4 years now. Founders Kalina Angell & Rob Gauthier have brought the largest array of channelers from around the world to do these events for you. We want the people who enjoy channeling to find all of their favorites in one place or to find new channelers to explore all of the types of great energies that come from these co-creations! www.TheChannelPanel.com
Participating as part of this year's Channel Panel – The Big Bang Query
Darryl Anka – www.Bashar.org
Rob Gauthier – www.ETwhisperer.com
Kalina Angell – www.ArcturianStarseed.com
Nora Herold – www.NoraHerold.com
Wendy Kennedy – www.HigherFrequencies.net
Danial Scranton – www.DanielScranton.com
Lee Harris – www.LeeHarrisEnergy.com
Karen Neumann- www.aboutoneness.com
Shaun Swanson – www.Ishuwa.com