When:
03/09/2017 @ 5:00 PM – 6:30 PM
2017-03-09T17:00:00-08:00
2017-03-09T18:30:00-08:00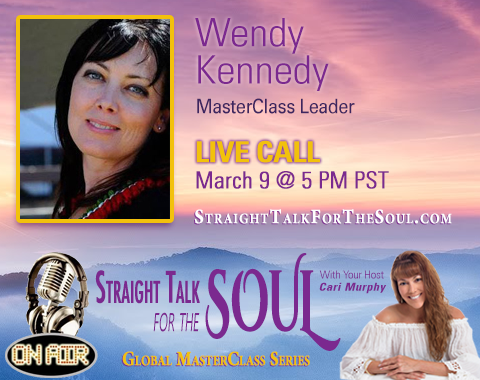 Wendy is honored to join Cari Murphy for Straight Talk for the Soul's Free Global Masterclass Series. Cari brings together luminaries at the forefront of their fields to assist you in bringing greater awareness to your day to day reality, discovering your limitless power, and focusing your inspired thought to create your own reality.
You can join her live interview and discussion on March 9th at 11am Pacific.
By registering you will gain FREE Access from anywhere in the world via your phone, tablet, laptop or computer!
RESERVE YOUR VIRTUAL FRONT SEAT NOW! As part of Wendy's community, you will receive priority seating to ask her your personal question LIVE!
CLICK HERE to register.
This is a divinely inspired and purposefully created opportunity to connect with you and expand the light within you, around you, and amongst this powerful tribe of light workers around the globe.
You are more than welcome to forward this invitation and share news of this event with anyone you feel would benefit from this series.
Thank you in advance for registering at the link below and for contributing your light to this transformational series of events beginning JANUARY 16TH!
CLICK HERE to register.
We look forward to connecting with you soon.